News
Trending
Olaf Scholz Plans to Expand Migration Centers in Nigeria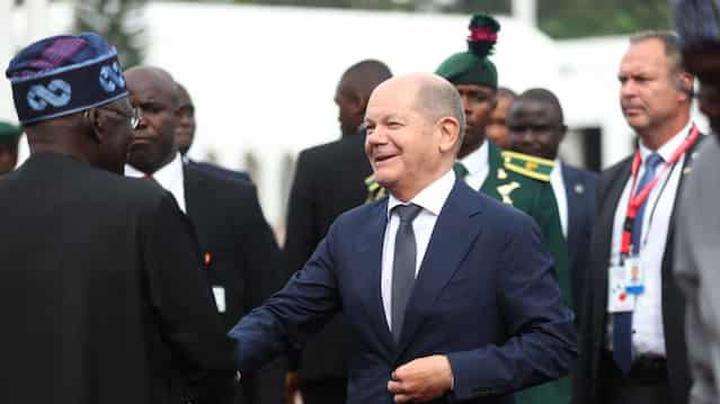 Olaf Scholz on Sunday in Abuja with the President of Nigeria, Bola Ahmed Tinubu Picture: AFP
The Chancellor wants to achieve in Africa that rejected asylum seekers can be more easily sent back to their home countries. In return, skilled workers who want to come to Germany should be specifically advised.
Chancellor Olaf Scholz (SPD) has advocated for a closer partnership to control migration during his visit to West African Nigeria. At an economic forum in the coastal metropolis of Lagos on Monday, he emphasized that in addition to facilitating the return of Nigerians without a right to stay in Germany, the immigration of skilled workers must also be promoted.
For this purpose, migration centers that have been established in Nigeria to support returnees from Germany are to be expanded. According to Scholz, they should also take care of advising skilled workers who want to gain a foothold in Germany. "This requires some preparations and investments – on both sides," said the Chancellor. He had already discussed this on Sunday with the Nigerian President Bola Tinubu.
"We offer more legal ways than ever before to come to Germany for work," Scholz said on Monday in Lagos at a German-Nigerian economic forum. "At the same time, those who cannot stay with us under these new regulations should be able to return to their home countries."
Open to the return of refugees
Tinubu had shown himself open to the return of refugees on Sunday. When asked what he expected from Germany in return, he said at a joint press conference with Scholz: "I am not making any demands." If they were Nigerians, they were welcome at home. The problem, however, is the determination of identity. Of the almost 14,000 asylum seekers from Nigeria who are obliged to leave, about 12,500 are tolerated, mostly because they have no identification papers.
The federal government wants to accelerate the deportation of rejected asylum seekers without a right of residence. To this end, the cabinet has decided on corresponding changes to the law. In addition, more repatriation agreements are to be concluded with countries of origin. Federal Interior Minister Nancy Faeser (SPD) is also holding talks in Morocco this week. Scholz welcomed on Sunday that the EU wants to conclude a migration agreement with Nigeria as soon as possible. He hinted that Germany is also aiming for a bilateral agreement: "That will be the framework we need to become active," he said about the planned EU contract.
Scholz flies on to Ghana on Monday, which is classified as a so-called safe country of origin in Germany. Asylum procedures for applicants from these countries are processed more quickly due to the low recognition rate.