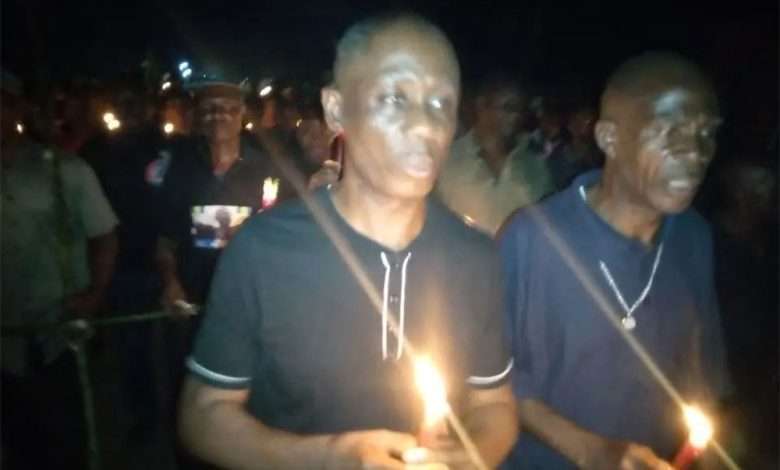 Activities for the annual memorial of nine Ogonis executed by the Nigerian government under General Sani Abacha and also for the memory of over 4,000 Ogonis who were slain and martyred during the repressive years of the 1990s in Shell-backed military repression will commence in earnest today with candle light vigils held throughout Ogoni.
The event which has become a ritual is expected to also hold in many parts of the Niger Delta region and around the world including Bonny, Port Harcourt, Yenagoa and the United States.
Coordinating committee chairman, Elder Sunday Ndee said the vigil is a mark of respect for the martyrs and is expected to hold in various communities and among various groups throughout Ogoni and beyond.
President of MOSOP, Fegalo Nsuke, has called on all Ogonis and friends of Ogoni who will be participating in the events to remain peaceful. Nsuke said the memorial should remind us all and commit us to the pursuit of the goals of the martyrs.
"This is an event which calls us to reflect on the cause for which we lost over 4,000 Ogonis and in particular, the nine who were martyred on November 10, 1995. This memorial events should commit us to the cause which these people committed their lives and encourage us to push for sustainable development of Ogoni" Nsuke said.
November 10 is marked yearly in Ogoni and beyond in memory of nine civil rights activists who were unjustly murdered by the Nigerian state under General Sani Abacha. The nine men include Ken Saro-Wiwa, John Kpuinen, Nubari Kiobel, Baribor Bera, Saturday Doobee, Paul Levura, Daniel Gbokoo amd Felix Nuate.
The day has been set and declared by MOSOP as the Ogoni martyrs day and is marked annually.