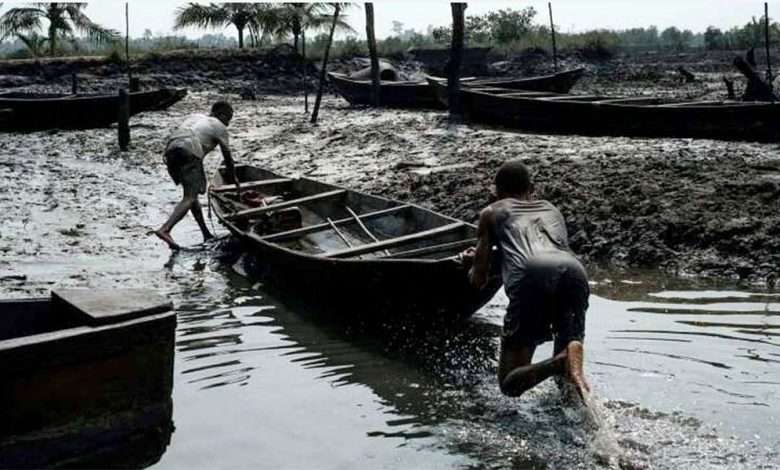 A member of the HYPREP Governing Council and leader of a group known as the Peoples Advancement Centre, Celestine Akpobari, has asked the federal government to stop any new oil exploration in the Niger Delta region. 
Speaking to journalists in Abuja on Wednesday, AkpoBari Celestine, who is also a leader of the All Progressives Congress in Khana local government area said the government needs to concentrate on cleaning up the region, adding that "you cannot run the tap and mop your floor at the same time".
He said President Bola Tinubu should consider a full implementation of the United Nations Environment Programme (UNEP) report on Ogoni clean up.
Celestine said the president should direct "Shell to immediately decommission in line with recommendations of UNEP".
"Mr President should also approve adequate compensation to Ogoni farmers and fishermen who lost their means of livelihoods," he said.
"Mr President should direct immediate release of the confiscated Non Motorised Ken Saro-Wiwa Memorial Bus which is being held by the Nigerian Customs in spite of recommendations of the National Assembly on Tuesday 19th July, 2016 and the favourable ruling of a Court of Competent Jurisdiction since 20th April, 2023.
"On the ongoing environmental remediation in Ogoni, you cannot run the tap and mop your floor at the same time.
"The Government should concentrate on the clean up of Ogoni and other Niger Delta States and stop new oil exploration in the region.
"Niger Delta has contributed a lot to the development of Nigeria, it is time Nigeria should take care of Niger Delta people and the environment.
"It is on record that the Government of Nigeria is yet to release one kobo in contribution to the Ogoni clean up.
"Government should pay up and immediately release money to HYPREP to commence environmental audits of other polluted sites in Niger Delta."
Also speaking about the struggles of the people of Ogoni land, Celestine said the demands made after the execution of Ken Saro-Wiwa have not been met by the federal government.
He said the injustice that led to Saro-Wiwa's struggle continues to fester, adding that the president should look into the demands with a view of addressing them.
Credit: The Cable