Interviews
Ogoni Cleanup is Compromised – MOSOP President, Nsuke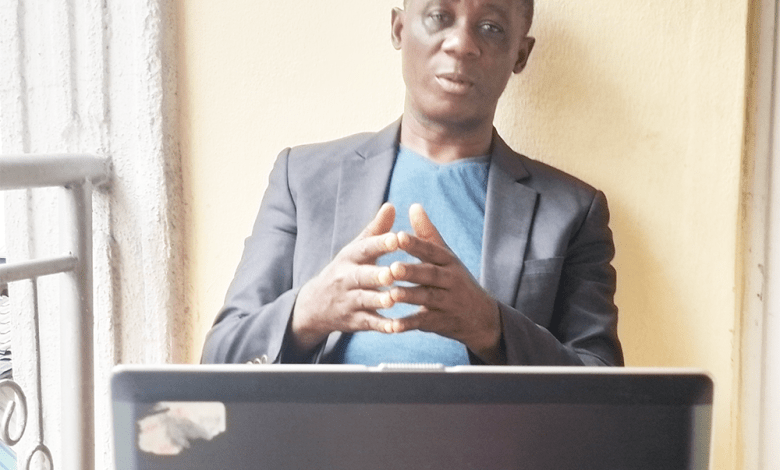 Fegalo Nsuke is the president of the Movement for the Survival of the Ogoni People, MOSOP. He spoke with EMMANUEL MASHA on the petroleum Industry Act (PIA), the cleanup of Ogoni land, the financial award to the community by the court and other issues affecting the people. Excerpts
1, From your interviews, comments and statements, it appears you have lost faith in the Ogoni cleanup. Is it impatience or because your expectation and those of some Ogoni have not been met?
As a people, we advocated for the cleanup of Ogoniland and paid prices, made sacrifices for that to be achieved. Now we have the Hydrocarbon Pollution Remediation Project, HYPREP, in place to implement the UNEP report on Ogoni. Even though we know the report had been funded and written in favour of Shell, we still accepted its implementation with the hope it could lead to a clean Ogoniland.
The problem is that the report is not followed. The report is not implemented to bring benefits to the communities and all aspects that should benefit the people are jettisoned.
When you are implementing a remediation program in an area where the drinking water has been polluted and much damage has been done to livelihoods, the first thing you do is provide an alternative source of safe drinking water. The next thing is to assess the extent of damage done to people's livelihood sources so you can pay compensation for the damages. You simply cannot do a remediation without compensation for damages.
These are the critical aspects of the remediation which concern the people and have been neglected.
Back to the UNEP report on Ogoni, it was also recommended that an assessment be done on the health of the people. A health audit does not mean conducting a one day program to treat malaria, give Panadol and flagyl What we expected is a complete upgrade on existing medical facilities to enable people visit the health centers for an assessment and get further help. A department can be dedicated within the hospitals to conduct the audit and this will be on a continual basis and not an ad-hoc one or two day intervention as we saw with HYPREP.
So we are disappointed that the implementation is not delivering on our expectations and the primary recommendations which should positively impact the Ogoni environment. HYPREP has instead focused on enriching certain individuals. Contracts being awarded to unqualified firms and even those who were not registered during the pre-qualification assessment are making the list of contractors. The entire program had been ridden with corruption. And that is why we have called for the dissolution of the governing structures that have promoted the corruption in HYPREP.
2, You have consistently faulted the handling of the clean-up by HYPREP; what is main grouse with the body?
The trouble is that the Ogoni people continue to drink polluted water whereas HYPREP has spent billions of cleanup funds without addressing the water crises which is a direct consequence of Shell's pollution in Ogoniland. HYPREP was initially given US$10million to take off. That is an estimated NGN3.6billion. All of that money has been spent on internal processes without any move to address the water and health problems raised in the UNEP report. That again reflects the corruption in HYPREP. An organization that does not need more that 10 support staff running over 40 and wasting money on frivolous items. All of which is to cover up the loots that are currently going on in HYPREP.
The other thing is that livelihoods have been destroyed in Ogoni and Shell and HYPREP are not talking about how to compensate the people for the loses. They are spending billions on themselves and remain silent about families that barely survive daily due to the destruction of their farmlands and fishing businesses..
When you take a look at the contractors, you find that they were all selected out of a compromised process. Over 70 percent of the contractors were unqualified firms that will require to sign a different contract with another firm to do the cleanup on their behalf. The Ogoni cleanup had been converted by HYPREP into a self enrichment programme and a tool for political patronage.
Those compromises are the reasons we have called for an the dissolution of the HYPREP Governing Council and an investigation into the cleanup contracts because we have seen clear compromises on the part of the Governing Council of HYPREP.
3, But Marvin Dekil, the head of HYPREP has kick started the cleanup process, and has assured Ogoni that he would ensure that their environment is cleaned up? Recently he reeled out some of the milestones HYPREP reached in the cleanup.
We have asked them to explain to us how they are handling the contaminated soil in the absence of the Integrated Soil Management Center which was recommended by UNEP to handle the contaminated wastes. They have not been able to answer that question because they have no plan in place to handle the contaminated soil. So its all a coverup of the oil spills and not a cleanup. If you do an investigation into the activities of HYPREP and their unqualified contractors, you will find a link between the contractors and at least a member of the HYPREP Governing Council. That is why we have called for the dissolution of the current governing council and a new one be put in place so we can have an independent investigation, We insist that their is massive corruption going on in HYPREP and a government that claims to be fighting corruption cannot be silent about that.
I attended a town hall meeting organized by Social Acton in Port Harcourt on Wednesday, July 31, 2019 at the Algate Congress hotel and a representative of HYPREP was there to tell us they were working with the Center for Environment, Human Rights and Development(CERHD) to draw up key performance indicators. That tells you that they have no plan in place. We have asked them to make their plan public because it should be a public document when you are dealing with the people, they have not been able to. They are just trying to set key performance indicators which essentially tells you HYPREP does not have a plan in place. Yet, they have awarded contracts. The fact is that the entire process have been driven by personal gains and not to deliver benefits for the Ogoni people and with the way HYPREP is going, they are bound to fail and Ogoni will remain polluted after their work and expenditure of billions of dollars.
But we think we can get things reversed and set on the part of progress by reconstituting the governing council, recovering the stolen funds and implementing the program openly so the people can start having confidence in what HYPREP is doing..
4, What exactly do you find troubling with some of the contracts that HYPREP has awarded on the cleanup?
The Ogoni cleanup should not begin with contract awards. It should commence with addressing the water crises. At least 50 Ogonis die weekly in the communities where spills have impacted strongly and the rate of strange sicknesses is alarming. That means the health audit and the need to improve the medical facilities are paramount. The people must also be compensated for their losses occasioned by the massive spills. HYPREP cannot skip these critical areas affecting the people to award contracts because contracts give them money.
The other thing is that the contracts have been awarded to unqualified firms. For instance, the registration details of Basic Nigeria Technology Limited, which was hired to do oil spill remediation job at the Oboolo site, revealed that it is in the business of oil palm plantation and refining
Pacrim Engineering Ltd, was incorporated two months after the bidding process had closed, and yet was able to make the list of successful companies.
Mosvinny Nigeria Limited, which was allotted a site in Debon, is in the business of "agricultural farming, mechanized farming, poultry farming, livestock breeders, animal husbandry and agricultural services in all its ramifications," yet it made the list of contractors to clean Ogoniland.
Louizont Ferretti Enterprises Ltd, which was contracted to do the cleanup at Buemene Korokoro, is in the business of "supply services and maintenance of oil field equipment, dealers in all types of cars, fashion house, imports and exports, trade, general merchants, general goods, buying agents dealers, dealers in textiles materials and merchandise of different description whether consumable items or not and general maintenance of office equipment."
Rey & Reina International Limited, which was allotted another section of Debon, was set up to sell and distribute general goods.
Maiduguri-based Shamsa Resources and Services Ltd, which was set up to "carry on the business of management training, finance and development consultancy services in all aspects of the development sector, to plan and conduct survey and study, project management, business analysis and change implementation," was also allotted a remediation job at Debon.
So you see that the integrity of the process has been compromised by the Governing Council of HYPREP.
5, Some persons have condemned your criticism of the cleanup, claiming that you are not happy because you are not being "carried along" in quote. How would react to that?
It is normal when you stand on the side of the people to hear such accusations. But they also needed to tell us when, how and where I requested to be carried along and which company I have backed or recommended for remediation contracts. That kind of accusation tells you that for them, it is about "being carried along" and not rescuing Ogoni and that accusation also reinforces the massive corruption in HYPREP which we are talking about.
6, The divisions among some Ogoni stakeholders over the clean up, according to some is a strong sign of disunity among Ogoni. MOSOP is a key unifier in Ogoniland, and not a divisive force as some would want the current MOSOP to be seen. Does that bother you?
The expectations of the Ogoni people is what I have earlier stated. There is some scrambling among the businessmen over contracts and that is normal but as a people, and as far as the cleanup project is concerned, we want to drink clean water, we want compensation for the damages they have done to Ogoni, we want our hospitals to be able to deal with the sicknesses and massive deaths we are currently experiencing, we also want to have a credible and transparent process that accounts for the billions spent without results. MOSOP will continue to galvanize every community and sector of Ogoni to get positive results from the cleanup program.
So, we are actually not divided over the primary purpose of the cleanup. The division is between those who are embezzling the cleanup funds and those of us who want to see it benefit the Ogoni people.
Again, MOSOP is not divided. We are a product of a credible election and the Shell backed attempt to have a sit-tight president who favours forceful oil resumption with potentials for conflicts and killings in Ogoniland has failed and will continue to fail. We cannot allow personal interests to drive MOSOP. We are guided by a constitution and we will remain committed to the common good of the Ogoni people.
7, Let's discuss insecurity in Ogoniland, fuelled mainly by cultism. What is the way out of this madness? What is MOSOP and other critical stakeholders doing to promote security in Ogoniland?
An immediate intervention, I would think, should be to boost Police presence in Ogoni and immediately transfer all Police officers that have served over 2 years in Ogoni. We say so because we have credible information linking the Police officers to be focused on arrests and taking monies for bail instead of helping secure Ogoni.We have also seen a link between security officers and a flourishing illegal oil business.
Gangsterism in Ogoniland is sponsored by politicians and the Nigerian oil industry. I am sure government intelligence should be pointing to that but their inactivity could be politically influenced. The way out would be to stop the politicians and the companies sponsoring these crimes. The desperation of the Nigerian oil industry to resume oil exploration in Ogoni against the wishes of the people is a big problem. For instance, our resistance against forceful oil resumption has set the promoters of Shell and oil resumption against us and they now try to protect a compromised former president of MOSOP instead facing the realities. But the fact is that we cannot submit to any form of intimidation. MOSOP has a clear mandate from the Ogoni people and that is clearly expressed in the Ogoni Bill of Rights. We will continue to protest the injustices done to Ogoni until they are properly addressed.
What actually stuns me about the much orchestrated insecurity in Ogoni is that the boys perpetuating these crimes have openly come out to admit that they are sponsored yet, government has done nothing.
If the government is sincere about fighting insecurity, it should immediately commence an investigation into the matter and act on the outcome in an appropriate way.
8, The army has captured Bobosky, the leader of the Greenlanders in Gokana a few days after Governor Nyesom Wike announced a N30 million bounty on him. Should bounty be placed on his likes to rid Ogoniland of other criminal elements wrecking havoc?
The issue of Bobosky's capture has been disputed by the Army. But placing bounties on his likes won't really address the problem if the Police is not supported to be effective in Ogoni and the sponsors continue to fund the gangsters The other issue is job creation for Ogoni youths. Ogoniland seem to have been abandoned by the government and this appears to be a deliberate policy designed to create these kind of situation in order to break the resistance against Shell's return to Ogoniland. If government will see our commitment to a peaceful Nigeria and our agitation to be a simple demand for basic rights which can be addressed through dialogue, then I think their will be better progress.
9, Lastly, MOSOP is against the resumption of oil exploration in Ogoniland by Shell or any other oil company. Why have you maintained this stance? What should be done for drilling to return to Ogoniland?
The solution is to respect the political rights of the Ogoni people for SELF DETERMINATION as demanded in the Ogoni Bill of Rights, ensure a proper cleanup of the massive oil spills in Ogoni, pay compensation for the destruction of livelihoods in Ogoniland, apologize and review the death sentences which led to the state murder of our heroes on November 10, 1995.
The solution is not to force oil resumption which will be strongly resisted by the people and cause more deaths in Ogoniland. The fact is that forceful oil resumption will prompt a strong Ogoni resistance and the government and Shell will as usual call in the soldiers to kill Ogoni people and we do not want that.
We also advice against forceful oil resumption because we know that the entire Niger Delta looks up to the Ogoni people in the struggle for freedom and killing the Ogoni people could draw the sympathy of the rest of the Niger Delta. That has the potential to throw the region into another crises. The solution therefore will be a peaceful dialogue facilitated by credible international negotiators and we are ready for such dialogue which we believe will address the problem.
Finally, we emphasize the decriminalization or exoneration of Ken Saro-Wiwa and the other eight hanged by the Nigerian State on November 10, 1995. Their decriminalization has become a key component of Ogoni demands. We see it as hypocritical for the government to name a Polytechnic after Saro-Wiwa, name streets after him, acknowledge that he was a hero but simply cannot acknowledge that they murdered him in his innocence. All of that has to be addressed..
I do not think that as Ogoni people fighting for Justice in Nigeria, we can truly celebrate freedom for Ogoni until Saro-Wiwa and the other eight are decriminalized, their names cleared and their innocence acknowledged by the Nigerian state.