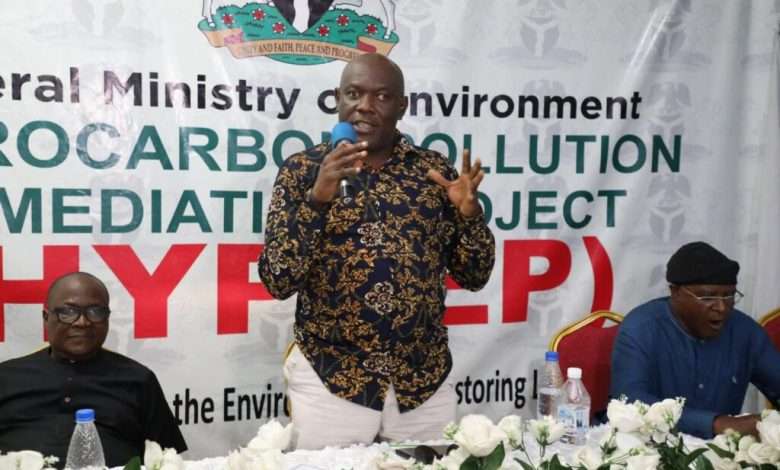 The Movement for the Survival of the Ogoni People (MOSOP) has warned the Hydrocarbon Pollution Remediation Project (HYPREP) against any attempt to allow itself to be used as a vehicle plot a forceful resumption of oil production in Ogoni against the will of the people. MOSOP says the move could trigger an unprecedented uprising which could spill over to the rest of the Niger Delta and possibly cause a major destabilization in the region.
President of MOSOP, Fegalo Nsuke gave the warning yesterday while speaking in Bori, the traditional headquarters of the Ogoni people. Nsuke strongly warned HYPREP against any act that can derail its (MOSOP's) initiatives designed to achieve a negotiated settlement in the Ogoni disputes with the oil industry through the operation of an Ogoni Development Authority.
"MOSOP will want to strongly advise HYPREP to discard any miscalculations suggesting that the Ogoni people could be conquered by force of repressed again and decimated in an attempt by some greedy fellows who will want to forcefully resume oil production in the area without addressing legacy issues plaguing the Ogoni people which led to the exit of Shell from the area"
"MOSOP will further warn HYPREP against any move that could derail current efforts we are making to address the underdevelopment in Ogoni and resolve the conflicts through the operation of an Ogoni Development Authority" Nsuke said.
He noted that the Ogoni people have raised strong issues about how the oil business was conducted in the area and we were working towards a peaceful resolution to them. Nsuke said the Ogoni people will strongly rise against any move from HYPREP to frustrate its peace initiatives and desire to drive development in the area.
The MOSOP president confirmed that MOSOP has been reliably informed of a the training of some 500 jobless Ogoni youths at the Nigeria Police training college, Nonwa in Rivers State . He said MOSOP's information has it that the youths were trained to serve as fighters who will attack and quell any protests from civil rights campaigners opposed to forceful oil resumption in Ogoni.
He said MOSOP was particularly worried about the plan and advised HYPREP to discard such plots warning that the move has strong potential to ignite a civil crisis in Ogoni.
Nsuke questioned the rationale behind the recruitment of 500 youths by HYPREP at this time, noting that it is out of place for HYPREP and suggests some sinister motives for HYPREP to recruit for its contractors.
"HYPREP is not in any position to determine the human resources needs of its contractors nor should they serve the purpose of the human resources department of private firms it engages for services"
"We find strong reasons to believe that HYPREP's recruitment of 500 youths, seven years after it commenced its expropriation of monies meant for the cleanup of Ogoni is suspicious as it does not fit into HYPREP's role as a government department and supervisory agency for the already failed exercise"
The MOSOP president held that what is most important at this time is to halt any attempt by HYPREP to derail MOSOP's genuine efforts to achieve a peaceful and permanent resolution of all issues and set Ogoni on the path of development.
"MOSOP has proposed an actionable plan which when implemented will lead to a peaceful and permanent resolution of the Ogoni problem and we must ensure that that process is seen through and not derailed by any means "Nsuke said.
"We have to also warn HYPREP that it will be held responsible if it creates any crises in Ogoni especially because such crises have the potential of an escalation to other parts of the Niger Delta region and that must be avoided at this time"
"Finally, Nsuke said he hopes that the government will know where to look at should there be any breakdown of law and order in Ogoni occasioned by HYPREP's misdemeanours, especially the suspicious exploitation of jobless youths. to drive an unacceptable forceful oil resumption campaign" Nsuke concluded.