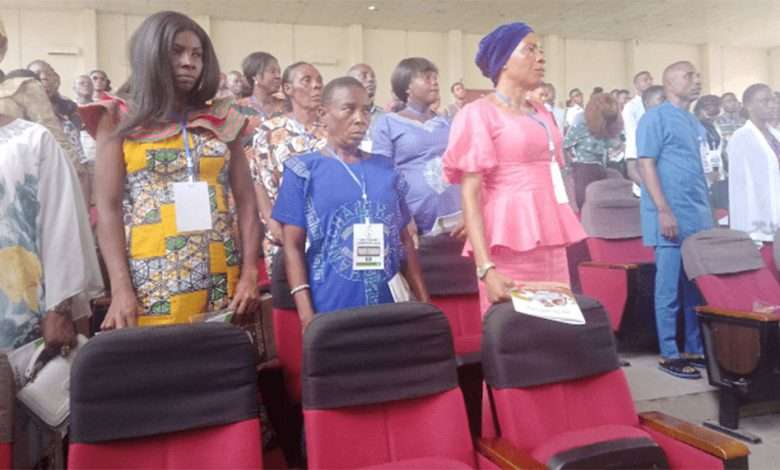 The managers of the Ogoni Scholarship Scheme (OSS) have revealed the secret saying it is expected that the thousands that would pass through the strict process and training would rebuild Ogoni ethnic community from within.
Many may have looked to the UNEP induced $1bn Ogoni Cleanup as where salvation and restoration would come from or the four LGAs but world class education of the next generation through a scholarship scheme is now being looked up to.
This was a major outcome of the fifth anniversary celebration of the OSS last weekend by the Kiisi Trust Foundation. The event took place at the Law Auditorium of the Rivers State University (RSU).
Putting the scheme in perspective, the chairman of KTF, Uche Onyeagucha, former member of the House of Representatives from Owerri in Imo State, said it was both for marking five years and for award of the 5th batch. He explained the lowkey celebrations of the past years, saying it was to reserve funds for direct awards to more students.
Kiisi Trust Foundation:
Onyeagucha said the KTF was formed some years ago after some families that suffered deaths during the Ogoni crisis took Shell to court in New York. At a point, out-of-court settlement was done and $15.5m was awarded. The families resolved to donate $5m to a fund to develop Ogoni land.
Benefiting from the sacrifice of Ogoni martyrs:
He reminded the beneficiaries that they were benefitting from the sacrifice including deaths of the numerous Ogoni people killed in the quest for justice. "This is very important so you situate what you are getting very well.
"Kiisi means development and the Kiisi Trust Foundation (KTF) supports community development such as education, health, etc, but the needs in Ogoni are plenty."
He said Kiisi tried to intervene through grants to community-based organisations and non-governmental organisations especially Ogoni-based ones, but later did prioritization and decided on direct intervention.
He revealed what brains and integrity can achieve in Nigeria by putting forward two renowned professors from Ogoni. He named them as BB Fakae and Friday Sigalo. He also mentioned Deziah Hannah Karikpo, and the medical doctor, Lebatam Ndegwe (Executive Secretary of KTF).
The human rights activist who fought for the Ogoni struggle and for Ken Saro Wiwa and the martyrs said there is something that is a must in the board and management of Kiisi; that is total transparency. "There is no room for any undue favour to anybody. For spending, we adopt world best practices.
"We insist that scholarship must be for scholars. So, if you are not a scholar who is totally committed to studying and passing with high grades without cheating, then Kiisi or Ogoni Scholarship Scheme (OSS) is not for you.
"So, if you know you got your scholarship by knowing any of us, say it openly here and now. This is one of the few scholarship schemes without compromise or connection or fraud."
In the health sector, he said KTF executed a solar power project at the most sensitive sections of the General Hospital Bori. "Assessment has shown that power has boosted attendance to patients after official hours. Visits revealed that the Kiisi power scheme is still what is supporting the hospital in those sensitive places."
Another strategic impact, he stated, is in ICT. He said the board realized that ICT penetration in remote areas in Ogoni is low because ICT awareness programme is low. "We have thus carried out sensitization and support in two out of the 24 local councils in Ogoni. We took two best students in each of the 14 secondary schools in Gokana and trained them on how to effectively write computer-based test (CBT) and also same approach in Khana LGA. We found that intelligent students in Ogoni fail tertiary school entrance examinations because of poor ICT background or inability to put their what is in their brains with the computer."
He said their playing in the lives and brains of young persons has revealed to them along with other research findings around the world that all children in the world are born equal in intelligence, but the difference is that as they grow, they face different standards of education in schools of different standards.
"Five years down the line, we have found the value of the OSS as sound and enduring. This has been on since 2018.
"This is in response to cries of lack of funds in Ogoni families after the many years of crisis, violence, land and water ruination, decline in farming yields, instability of business people, etc. Income per family seemed to decline very much, but many students were found to be brilliant."
He said the demand is overwhelming. At the onset, he said, due to distrust of the society, only 41 Ogoni students applied after many weeks of advertising. The scheme took only 18 that were qualified. Now, the demand is huge and the last year saw over 400 students getting it. This shows that it has been found to be credible and worthy by Ogoni students and their families. They have voted with their pens by applying and contesting. Now, 1,725 so far have benefited. Some are now topping their classes."
Onyeagucha said the testimonies and overwhelming demands have vindicated the OSS because it has made Ogoni students to study hard and shun idleness and laziness because they see something to fight for. They see gain in striving and in a system that has nothing but merit. The managers of the scheme are now being drafted to other schemes, this is a testimony of the credibility and transparency of the OSS.
"KTF has also received accolades from many quarters. This alone testifies to openness, fairness, transparency, etc that KTF has come to represent. Your communities will rejoice with you. The scheme must be guarded and protected by you the recipients and the general Ogoni public because of the countless people it has helped and will continue to rescue."
This is also because it is the future of Ogoni. He said the managers (Optimum Resources Managers) were very strict and credible.
Challenges:
He mentioned the overwhelming demand for slots as the biggest challenge, whereas at the onset, it was lack of participation of Ogoni students that was the challenge.
He also mentioned poverty and anger in Ogoni areas due to many years of strife and deprivation as something now fueling ill-feeling in the communities.
KTF is now hunting for more funds to reach more persons. "Kiisi is aggressively seeking more funds, collaborations, and support to deliver more to the people of Ogoni in the mandate sectors.
Way forward:
"We are prepared to receive better ideas especially in how to be even more transparent. There was huge doubt that any set of Nigerians could manage the Fund. So, the fund was warehoused in a bank in New York. Then, from there, the one we would use would be sent to Senegal in a scheme called Trust Africa. Now, everybody is applauding KTF. I must salute the kind of persons on the board, especially Fakae and others who have insisted that scholarship must be for scholars and that every Dollar must count. We fought for the money to be returned to Nigeria and we opened a domiciliary account. The embarrassment we got was when somebody abroad praised us that then never expected Nigerians to do this. Bad people have dented our image and made us all look corrupt.
"There is room for complaint. The trustees are not for life. They can be changed. Beneficiaries will continue to rotate. So, others will come into the scheme.
"The aim of this project is that if you succeed in academics, use it to transform yourself, your community, and Ogoniland. Be an ambassador of the place you come from and for Kiisi."
Speaking the former vice chancellor of the UST, BB Fakae, a professor of parasitology, said celebrating five years is good because ordinarily, those who started at first have graduated.
On how to show that the OSS is real, he pointed to endless testimonies from beneficiaries and their families. "The beneficiaries have all said when they first saw the adverts, they called it scam. Now, they say its real. They do not contact anybody to get the scholarship slots. Also, we release their money exactly when we promised to send. They are the ones to speak about the credibility and transparency of the Ogoni Scholarship Scheme (OSS).
"Our events can be tracked and every name can be traced. Some say education is a but I say its not so. Education is still relevant because I do not believe that it's those that didn't go to school that are getting the jobs. Its still educated people that get the few jobs. Now, the jobs are for the best. So, go to school and get an education."
On what to do with Ogonis outside, he said: "Its open to all universities in Nigeria. In the then UST, we had a way of releasing results and transcripts early. It is late release of transcripts debar most students from scholarships. I kept telling this to ASUU. This was my legacy."
Lebatam Ndegwe:
The Executive Director, a trained medical doctor working in community health before joining the KTF put the five year-period in perspective, saying there is a lot to celebrate. "We insist that scholarships must be given to the most intelligent ones. It was conceived for the best.
"We release the money at the time we promised to. This is an opportunity to bring parents together with the children to celebrate and to show Ogoni children that if you study hard, you will be celebrated.
"Some of the resource persons are being asked to come and facilitate other scholarship schemes. Some other communities who have got funds are asking us to come help them."
On what next to expect, he said they listen to the communities to know what is most in their minds. "t is bottom-up approach. It is what communities want that we consider as long as the ideas are not to serve self. We want ideas away from serving individuals but the people. There are some suggestions being considered, example being on reproductive health awareness intervention, basic menstrual circles, exposure, drugs to take in such period, even amongst educated women. We are open to ideas.
"No man is an island of knowledge, as a community trust, it is open to ideas so we can continue to empower the majority of the people, not ones to fritter away resources of the people. Good ones can be considered for collaboration, for funding. That is where the thinking of the Trust is in the coming months and years."
Most students interviewed vowed that they never believed it was real when they learnt about it but promised to canvas for others to join.
Credit: BusinessDay